Wall Guardian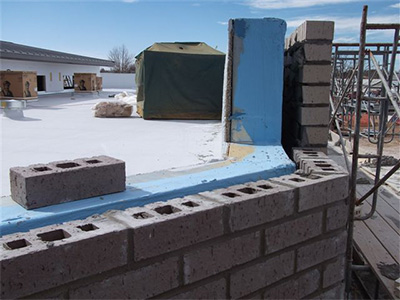 AIR & WATER BARRIER, VAPOR RETARDER
Wall Guardian FW-100A in conjunction with the other components in the system, provides a vapor permeable air and water barrier on the most common construction surfaces such as gypsum board, OSB, sheathing, plywood, CMU, ICF and other surfaces. This single component product allows for fast and easy single coat application by brush, roller or sprayer creating a fully adhered monolithic protective barrier.
This product can be used for both commercial or residential construction.
ADVANTAGES
Our highly developed products withstand six months of exposure. They are fully adhered and withstand the elements allowing for flexibility during the construction cycle.
In Service Temperature: -18°C to 97°C (0°F to 206.6°F)
Exceeds ASTM E2357 Standard: Our full system protects against air passage and associated energy losses
ASTM E2178 ABAA Evaluated Material: Meets the standard test method for air permeance
ABAA Evaluated Air Barrier Assembly: Air Barrier Association of America evaluated and approved all components individually and as an assembled system
Class A Fire Ratings: Passed ASTM E84 and NFPA 285 requirements
Vapor Permeability: Prevents moisture from being trapped in the wall cavity by allowing controlled diffusion of water vapor
Single Component: Fast and easy single application (40 mils wet film thickness)
Ease Of Application: Can be brushed, rolled or sprayed
Excellent Adhesion: To all common construction surfaces
25% Recycled Content: Can contribute to LEED credits